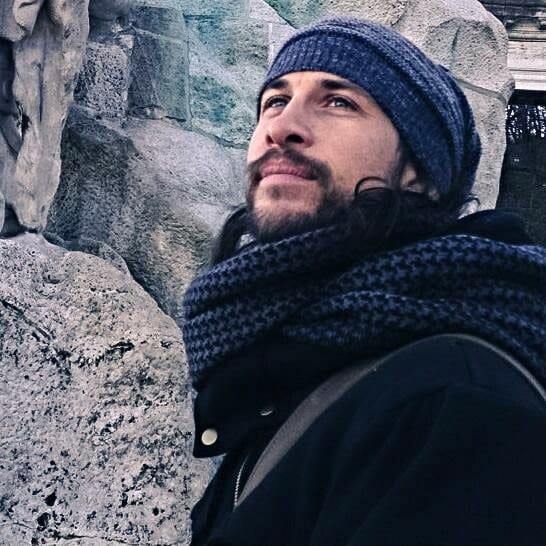 Growing up in British Columbia, Canada, Simon developed a strong affinity to nature with artistic foundations in visual art and music. In 2004 he gravitated towards painting as a full time endeavour bringing his musical background into the visual realm. Simon has explored many visual mediums, including animation, often with a strong influence in spiritual themes connected to nature. Currently his primary medium is digital painting. He continues to also produce music, and has released four full length albums since 2002. Within art galleries, festivals, conventions, and online platforms, his work is exhibited globally. He currently works out of his studio in Gibsons, BC, while continuing to explore an ever expanding palette of creative endeavours.
Tell us a little bit about yourself and how you became a visual artist?
I've been making art for as long as I can remember. From around age 10, I started playing music and now at 39 I've been weaving the two creative outlets together for many years through various mediums. Visionary-Psychedelic style art came on strong with an awakening I had back in 2004 where through the use of entheogens I found that I could draw sound. Then it became infused with light and many of my expressions have this light and sound quality — metaphysical in nature.
Your work is incredibly detailed. How long does it take you to make a piece and how do you know when it's finished?
It's variable from piece to piece and I rarely keep track. Sometimes the creation spans over many years, but when I've clocked hours it's around 80+ for the more detailed ones.
How do you see your art evolving over the next 10 years? What are some things you'd like to try that you haven't yet?
I enjoy continuing to merge my art with animation and music. This is an ongoing evolution that I see continuing over the next 10 years. I'd l like to try using some 3D elements for the animation and still images. Merging audio-reactive elements within the animations.
You're also a musician, correct? Tell us a little bit about your music and how your visual art plays into that (if at all).
Yes. My music and art often influence and play into each other, and I even use some of my own ambient music in my audio-visual meditations, for the Metta Grove Experience.
I also make some progressive rock music as part of expressing other aspects of my being, like maybe the more angsty and angry parts, the darker corners that need an outlet. Though even that music the songs often have a dynamic flow from heavy to soft.
Your work seems to have a very strong earth/human evolution theme. Why is it important to you to make art like this?
I love nature and feel that we need to continually deepen and remember our intrinsic connection to it so that we can live more harmoniously on Earth. It is something anyone can relate to, so I tie in metaphysical energy with nature so that it's translatable to anyone.
A lot of technology, medicine, food, and various aspects of life seem to be moving away from or separating us from nature, that path is false and simply won't last long. Nature is a foundational aspect of our biology and we need it to survive. I use my art to remind us of our deeper connection to nature so that part of us doesn't atrophy, and so that we can always appreciate it.