If you love what we do and want to earn points towards discounts on our products, then be sure to sign up for our Referral/Loyalty Rewards Program! You can do that by clicking on the red tab on the left side of the website on desktop/laptop computers, or the red gift icon at the bottom left of your screen on mobile devices.
Room acoustics describes how sound behaves in a space. If the room has no sound absorbing surfaces (wall, roof and floor), the sound will bounce between the surfaces and and will not be heard accurately. This is because the listener hears both the direct sound and reflected sound waves, simultaneously. This causes "standing waves" in the room which translate to spikes and dips in the overall EQ curve of the speakers. The result is an inaccurate representation of the sound, and typically causes the listener to make poor mix choices.
Make no mistake, our products aren't just for show, they're PROFESSIONALLY designed studio grade acoustic panels with an NRC rating of 1.10. All of our panel cores are made of a 3.5 inch thick, non-toxic material called mineral wool (which in most cases, performs better than standard fiberglass cores). When the sound wave penetrates the core, the sound energy through friction is changed into heat. The residual sound that doesn't get absorbed on the way in bounces off the back wall and then back through the panel a second time for even more sonic absorption.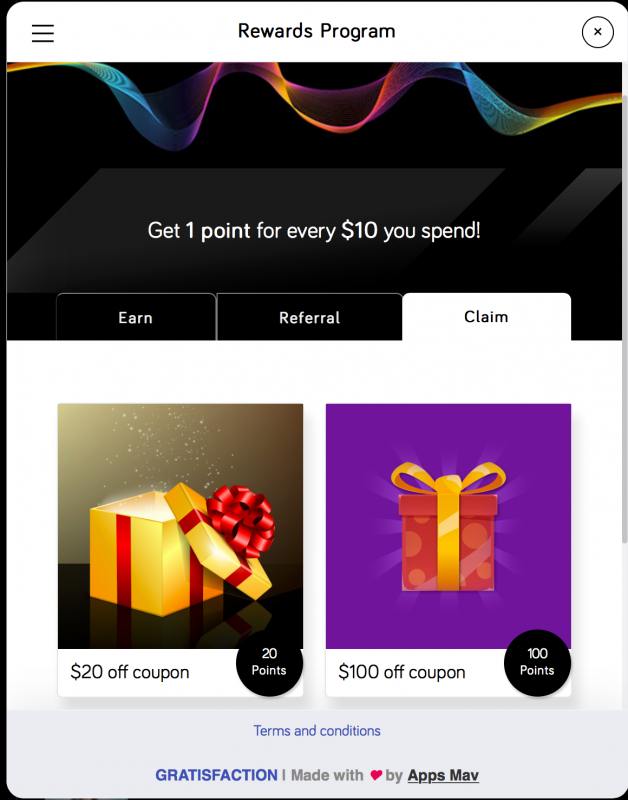 HOW IT WORKS:
Earn points for various tasks and/or any purchases you make. Points are redeemable for discount coupons. Essentially, every point you earn is good for $1 off any of our products.
Earn 5 points just for signing up!
Earn 5 points for answering a survey question.
Earn 5 points for following us on Facebook.
Earn 5 points for following us on Instagram.
Earn 5 points for following us on Twitter.
Earn 5 points for following us on YouTube.
Earn 5 points for signing up for our mailing list.
Earn 25 points for referring a friend (after they make their first purchase).